1. Create a Facebook Page in 30 seconds
Facebook Pages are simple business pages that you can create in your Facebook account. You can add collaborators and allow community posts, as well as enable Facebook Messenger to allow customers to chat with you.
Creating a Facebook Page is fast and easy. Go to https://www.facebook.com/pages/create/, select a Page name and category and you're good to go! We do recommend adding a company overview in the About section as well as uploading your logo to the cover area.
2. Connect your Page to POWR Facebook Chat
To connect a Facebook Page and start accepting chats from your site, open your POWR Chat Editor and follow these steps:
Go to Content > Connect Chat
Click the Authorize Facebook Page button.
In the login modal that now pops up, log into your Facebook account and allow POWR to access the required profile information. Note: You can only successfully connect a Page if you are a Page Admin with full admin rights.
If you have access to multiple Facebook Pages, select the one for which you'd like to use Chat.
Customize the appearance of your Chat icon and window.
Save your Chat App.
Note: If you are not seeing a green success message after connecting your Page, your Page is not connected yet. Try again, and make sure to follow each of the above steps.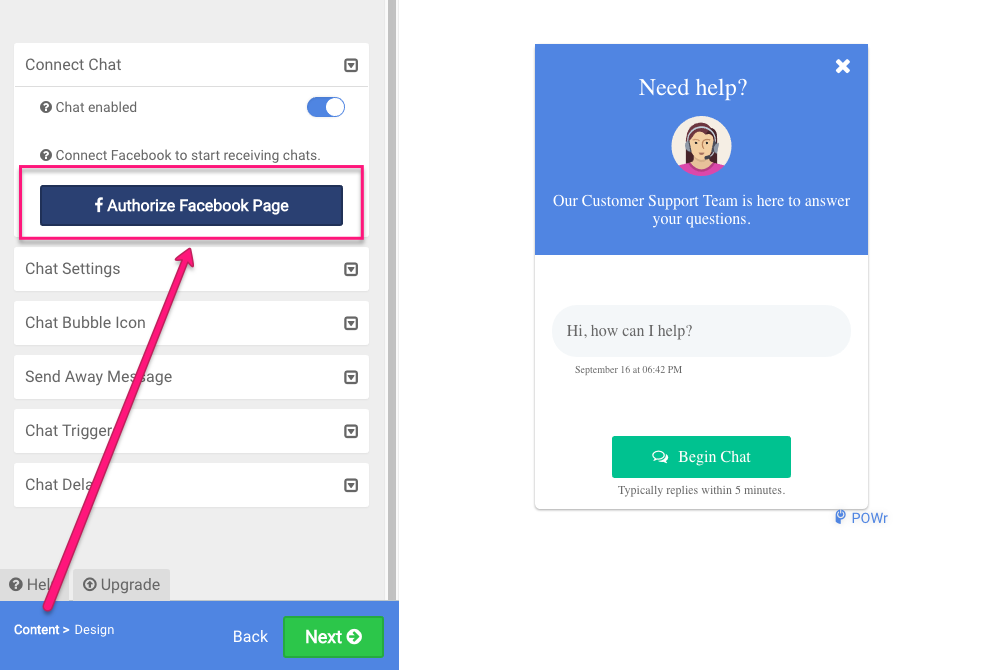 3. Enable Messenger for your Page
If Messenger isn't currently enabled for your Page, enable it by following these steps:
Open your Page.
Click Settings.
In the General section, find the Messages setting.
Ensure that the "Allow people to contact my Page privately" option is checked.
Save your changes.
4. Manage notifications
To learn how to manage your Page and Messenger notifications, check out this article.