Hello Sumo-ling!

On July 13, 2021 POWR launched a promotion on app AppSumo.

You can now sign up to a new POWR account using your AppSumo code(s).
Please note that AppSumo codes cannot be redeemed on any existing POWR accounts.
How to use your AppSumo codes on POWR.


To sign up to POWR using your AppSumo code(s), please use this link.
You can enter your AppSumo code directly on the sign up page. If you purchased more than one code, click Stack Another AppSumo Code to add any additional codes.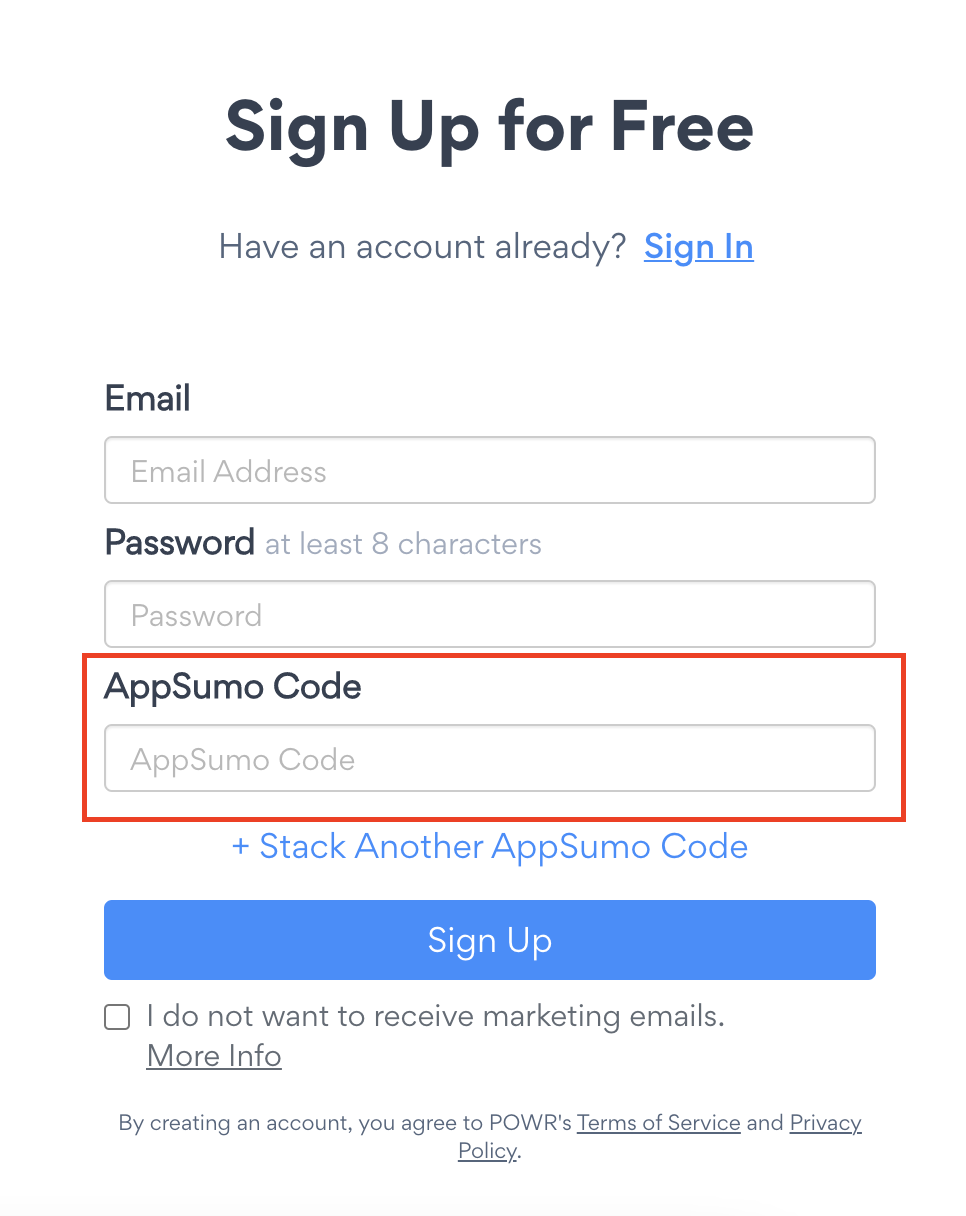 If you purchased additional AppSumo codes after you signed up with your first code, go to My Account > AppSumo Codes > Add Code. You can stack all additional codes here.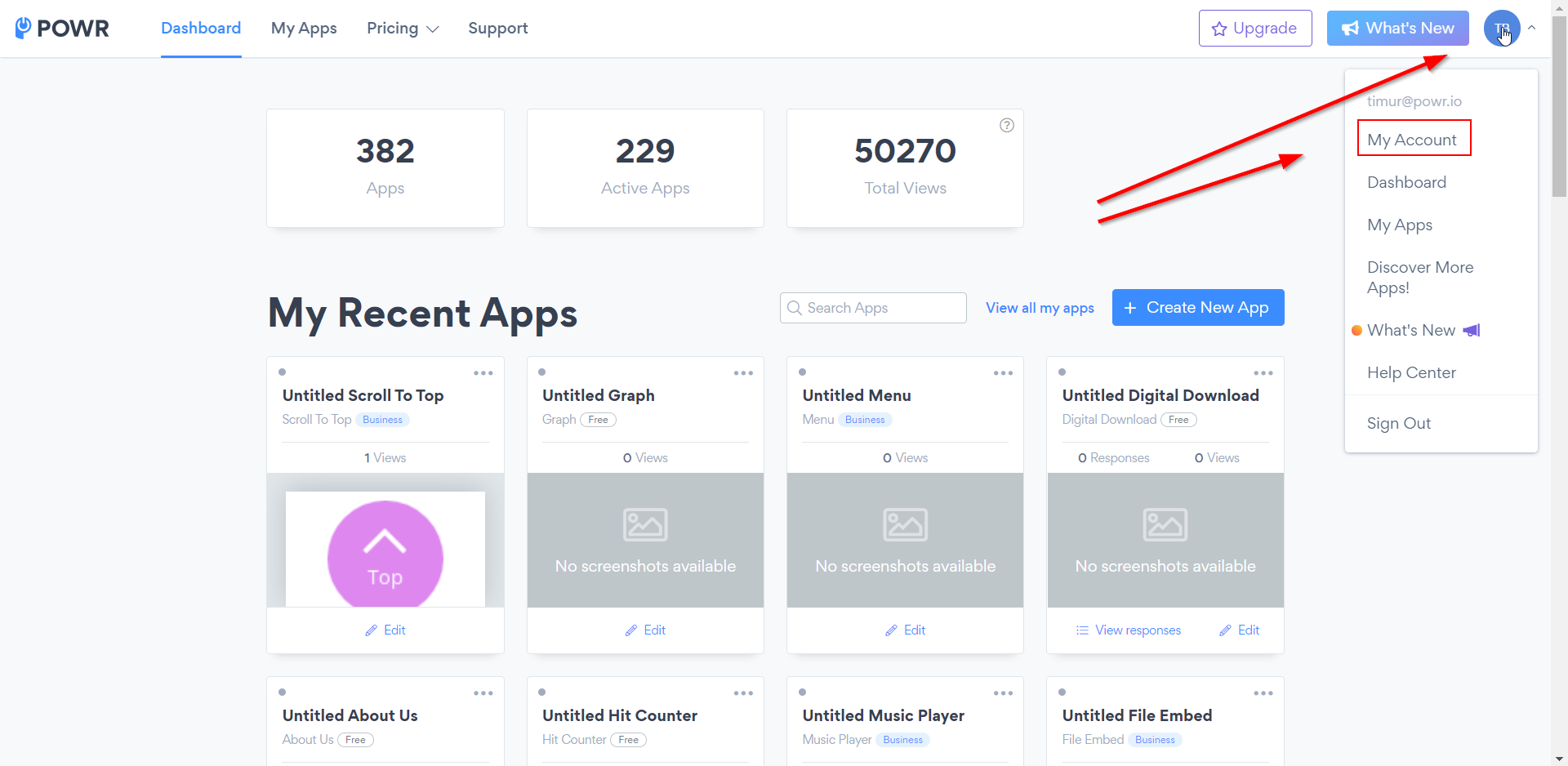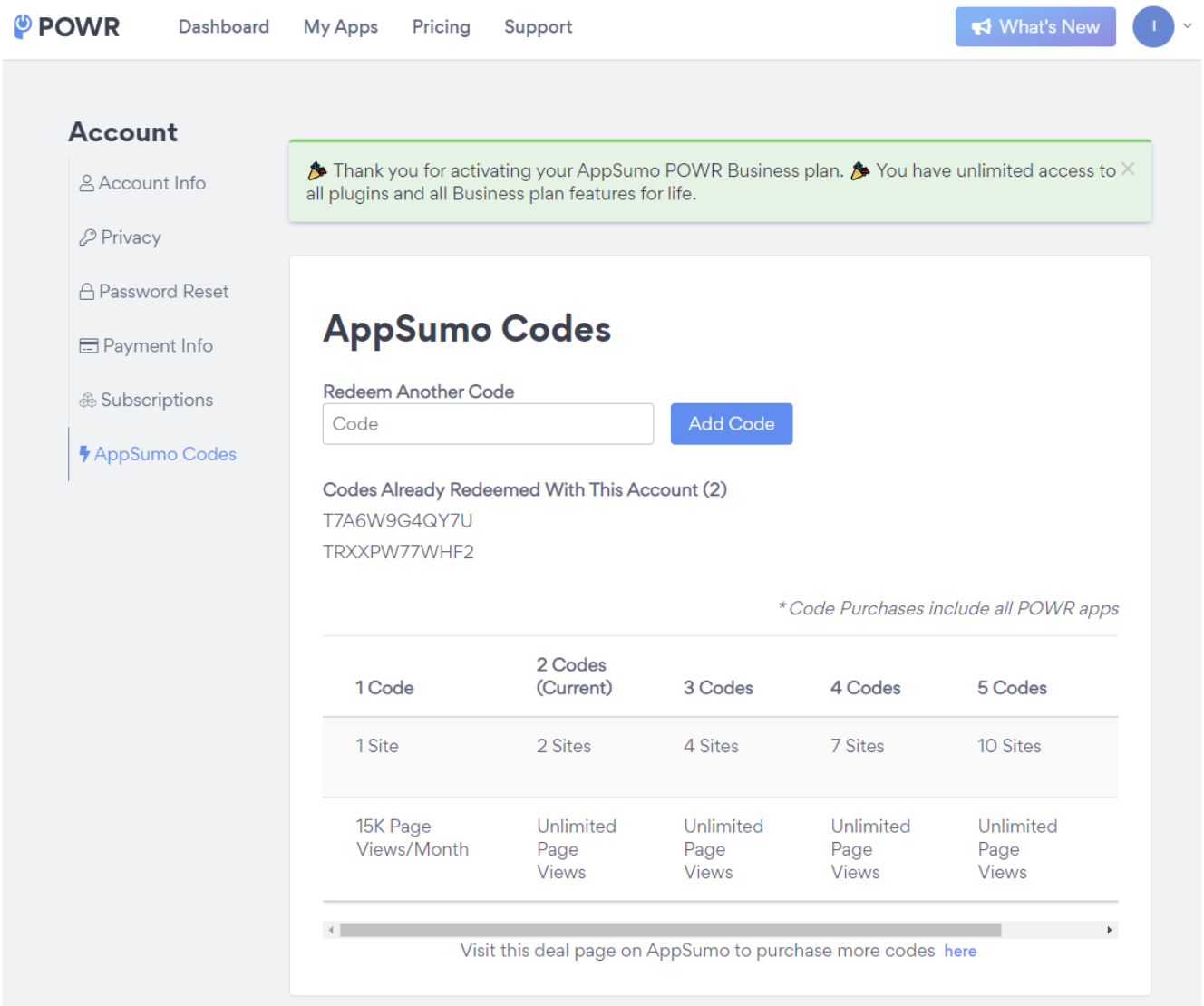 What are the deal terms?
Staring from the first code, you will gain access to all features for all POWR apps for life! However, there are limitations on the number of sites on which they can be installed, as well as limitations on the number of pageviews your apps on your site(s) get per month.
Please check the comparison table below to get more information about what is available with each code:
| | | | | | |
| --- | --- | --- | --- | --- | --- |
| 1 Code | 2 Codes | 3 Codes | 4 Codes | 5 Codes | 6+∞ Codes |
| All apps | All apps | All apps | All apps | All apps | All apps |
| 1 site | 2 sites | 4 sites | 7 sites | 10 sites | +3 sites per code |
| 15K pageviews | Unlimited pageviews | Unlimited pageviews | Unlimited pageviews | Unlimited pageviews | Unlimited pageviews |
According to this table, if you purchase one code you would be able to install apps only on one site and it would limit views to 15K per month.
Views are calculated for all apps installed on a webpage. For example, if someone visits a page with 5 apps installed on it, then it will be counted as 5 pageviews.
How do I know how many sites I have used in my account? I don't see it anywhere!

Please note that we will be closely monitoring the number of sites your apps are installed on. If you hit your limit, we will reach out to let you know. Later this year it will be possible to assign apps to specific sites in a 'Sites' view in your POWR account. This is currently on the roadmap.

Refund Policy

Please contact AppSumo for refund requests. Refunds can be issued up to 60 days after purchasing your codes. Sumo-lings have 2 months in which to redeem their codes.

How do we handle subdomains vs the number of websites on the plans?
For our website limit, we count domain, not subdomain.
Example:
sub1.mydomain.com
sub2.domain.com
In this example, it would be one website (not three).