Available languages: POWR Editor
The POWR Editor is currently available in English and German.
To change the language of your POWR Editor to a different language, click on the language selection in the first tab of your POWR Editor and choose one of the available languages.
If your App is already saved, click the "Back" button until you get to the view shown in the screenshot.
DE: Sprache im POWR Editor umstellen
Den POWR Editor gibt es auch auf Deutsch. In einem neuen app, einfach die Sprache im ersten Tab des Editors umstellen (siehe Screenshot). In einem bereits gespeicherten app, den "Back"-Button klicken, bis du zu dem gezeigten Screen gelangst.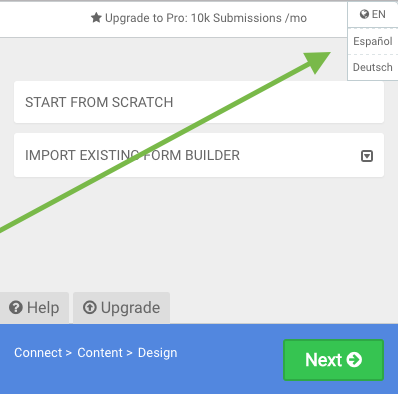 Available languages: App Content
You can enter any language in POWR Forms and other apps where you can add your own text. Simply type in the language you wish to be displayed when you create your Form elements.
For the Address element in Form Builder, there is currently no translation available. We recommend using Single Line Text and Dropdown elements to build your own custom Address field.
In Galleries and Sliders, you can add your own custom captions and text elements to describe the content of your images.
For Apps where non-editable system text is displayed, we are working on getting those translated.
Available languages: POWR Support
If you need to contact POWR Support, feel free to email us in English, Spanish, or German and we'll answer in the respective language.