Connect Mailchimp to your POWr Form to grow your Mailchimp list (Starter Feature). To set this up, follow these steps:
Step 1: Connect to MailChimp
First, you'll need to connect your POWr Form to a MailChimp List:
Open the POWr Editor (App Settings in Wix)
In the Settings tab, go to the Integrations section and select Email Marketing
Click Connect a Mailchimp List
In the popup which appears, sign in to your MailChimp account and select a list to connect (Note: you must sign into the Mailchimp Account Owner's account)
Click Done. 
Step 2: Connect MailChimp MERGE Tags
For POWr to know which information to send to Mailchimp, you will need to add your Mailchimp MERGE Tags to your POWr Form. Here's how:
Go to your MailChimp Account, and click on Lists.
Select the List that you connected to your POWr Form.
Open the Settings menu 
Click on List fields and *| MERGE |* Tags 
Copy the MERGE tags for each field that is set to Required in your List.
Paste the MERGE tags into the corresponding element in your Form.* 
Set the field to Required in your Form settings, as well. 
Note: You must do this for each field that is set to Required in your Mailchimp List Settings. If you're missing required fields in your Form, new subscribers will not be added to your Mailchimp list.
*Form elements which will connect to MailChimp include: Text Box, Email Address, Paragraph, Dropdown, Multiple Choice, Multiple Checkbox, Checkbox, Date and Time, URL, and Multiple Images elements
Steps 1 - 5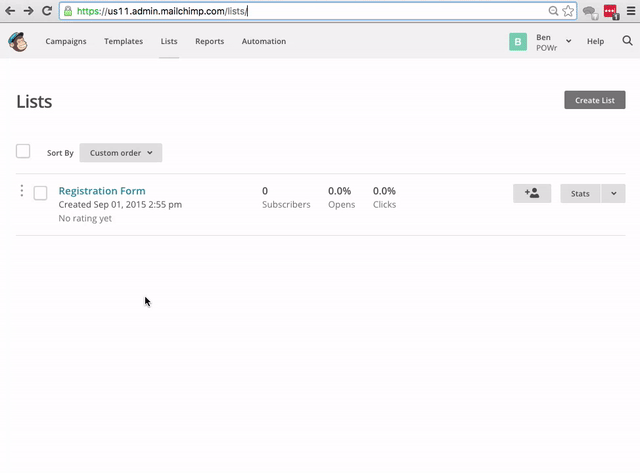 Steps 6 - 7
Note: At this time it's not possible to connect a segment within a list.