Where can I see POWR pricing?
To look up pricing for a specific POWR app, head to https://www.powr.io/pricing and select an app from the dropdown. You can also search for an app in the search bar when clicking on the app name.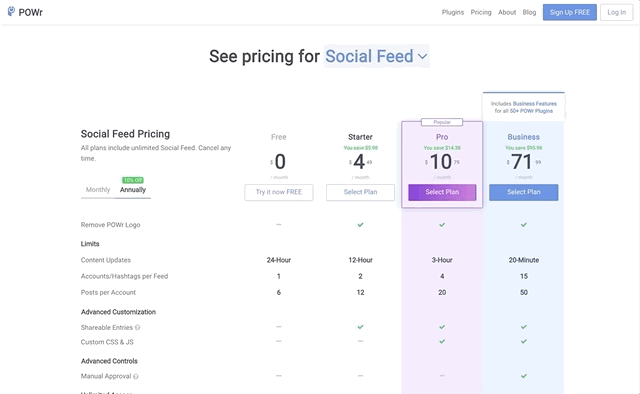 Please note: One example pricing table is displayed on page load. Because we have many apps, you need to select your app from the dropdown to see the correct pricing and upgrade a specific app.
Once you are looking at the pricing for your preferred app, simply click "Select Plan" to start the checkout process.
How do I know which plan to choose?
Which plan is right for you depends on your needs!
Typically, the following plans are available for each app:
FREE - free forever but displays branding and some features are unavailable
Starter - no branding
Pro - no branding and advanced features
Business - our unlimited option that includes all features in all POWR apps
Please note that features depend on the app you are trying to upgrade. A full list of paid features is displayed in the pricing table once you have selected the app you wish to upgrade.
You can also choose between monthly and yearly plans. There is a discount when choosing the yearly billing option.
App instances limitation.
From 14 August 2023 apps are limited in instances.
You can create as many apps as you want but you can publish/install only one app type(1 Form, 1 Youtube gallery, e.t.c) on the Free plan
3 on Starter and 10 on Pro. Unlimited instances on the business plan.
❗️ Old users with already published apps would not be affected, and apps would not be hidden but if you will decide to publish more apps you would need to purchase a plan.


Are free trials available?
If you're not sure which plan you need or you'd like to try a specific feature that's only available in one of our higher plans, please contact our support team and we'll be happy to activate a free trial for you.
How do I receive and apply a discount?
Discounts are available as seasonal promos. You may also nicely ask our support team for a discount and they'll be happy to check for you what's available.
Once a discount is active in your account, it is automatically applied to your total in the checkout.